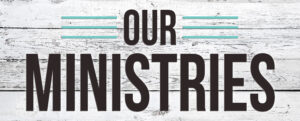 Weekly Prayer Ministry
All are welcome to join us in the Sanctuary on Tuesdays at 6 pm.
We also have a prayer group that meets on Thursdays at 7 pm in the Chapel to specifically pray for the children in our community. All are welcome to attend!
Prayer Blanket Ministry
If you like to knit or crochet, feel free to join us on the 1st & 3rd Thursday of each month at 6:30 pm. We meet in Classroom 1.
Small Groups
Small Groups have begun. Some of our groups still have openings. If you would like to join a group, please contact the church office and we can help find one for you.
JoyFull Cafe
Free Community Meals are held on Wednesdays at 5 pm.
Weekly Food Ministry
We receive food from Walmart & Country Fair every Friday that is available to the public. Distribution begins at 10 am & self-serve. We ask that you enter through the door located off of Marsh Ave, as all food is located at that end of the building.
We also have food available two Mondays & Wednesdays a month. This schedule is based off of the 1st & 3rd Wednesday of the month (if it is the 1st or 3rd Wednesday, we also get food on Monday of that week).
Fuel Youth Group
Our Youth Group is designed for kids in 6th grade & up. Fuel meets weekly on Thursday from 6:30-8:30 pm
Watch our Upcoming Events page for events that are held periodically throughout the year!
Invite your friends, family & neighbors, all are welcome!
Harvest Hands Food Ministry
We have a group of dedicated individuals who have been packing up food & distributing it to those in need all over Warren County. We are blessed to have this food ministry and it brings us great joy that we are able to share it with others. We do need assistance with this ministry, mainly with the distribution. Please consider volunteering your time so we can continue this outreach.
Online sign ups available. If you are interested in helping with this ministry
CLICK HERE
for available jobs/time slots or message Mandy Kellogg at:
kellogg3m@yahoo.com
to sign up.
As our church grows so do our needs around the church. We have many gracious volunteers who give their time each week doing various things but they can't do it all. We need extra hands and we are asking for your help. If you are interested in helping with any of the following please
CLICK HERE
Sunday morning Greeter/Usher/Welcome Center Host/Hospitality

Worship Team (Singers/Musicians)

Children's Church & Nursery (Must have clearances)

Sunday School Helper for 6th-8th graders

Children's Church Bus Driver – 11 am service (Must have clearances & valid driver's license)

Food Ministry Distribution around the community

Wednesday Community Meal

Youth Ministry Volunteers (Must have clearances)
We are currently looking for a Hospitality Team to put coffee & snacks out on Sunday morning before both services. We also need some volunteers to clean up after the 2nd service, i.e. the snack table & the food items that are left outside. Please message the church office if you are willing to head up this team or if you are willing to serve on this team.