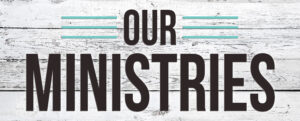 Prayer Ministry
Sundays at 8 am (upstairs)
Tuesdays at 6 pm (chapel)
All are welcome to join us as we come together in prayer.
JoyFull Cafe
Free Community Meals
Lighthouse Teen Ministry
A Christian Youth Group that is
designed for teens in 6th-12th grade.
Thursdays from 6:30-8:30 pm
Stitches of Unconditional Love
Prayer Blanket (and more) Ministry
If you like to knit or crochet, join us on the 1st & 3rd Thursday of the month at 6:30 pm in classroom 1.
Helping Hands Food Ministry
Food distribution
Fridays from 10 am-noon
1st & 3rd Wednesdays, 5:45-7:00 pm
First come, first-served. You will be required to sign in upon arrival.
Small Groups
Small groups meet at various locations throughout the week to go through stories of the Bible.