******************************************************************************************************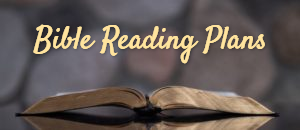 Bible reading plans can help you grow as a follower of Christ. They guide you through reading the Bible, so that you can see God's plan for this world and why it matters.
A Bible reading plan also helps you stay committed. Regularly reading, studying and applying God's Word will help you develop Bible reading as a habit — something you work into your everyday routine. The goal is to not follow a reading plan just to check off your Bible reading for the day but to have a life changing meeting with God.
For your convenience, we've compiled two Bible Reading Plans for you to choose from……Pick up your copy today at the Welcome Center!